BLUE OCEAN INTERACTIVE MARKETING AND WEB ROI DRIVE LANDTRAN SYSTEMS' WEBSITE INTO THE FAST LANE
CALGARY, Alberta – Speed and reliability are paramount in the transport business. The same can be said for Landtran Systems Inc.'s new website. The digital pit crew at Blue Ocean Interactive Marketing and WEB ROI have tuned up their online presence, taking http://www.landtran.com into the fast lane of the information superhighway.
HITCHING A RIDE WITH ALL LANDTRAN BRANDS
Like a well-orchestrated convoy, the website unifies Landtran's wide range of subsidiary brands, including Landtran Logistics, Northwoods Oilfield Hauling, Monarch Transport, Det'on Cho, and Continental Cartage. This refreshed digital hub is where you can find all the services these brands offer, each imprinting its uniqueness while embodying the overarching Landtran Systems persona. And the best part? We designed the site to scale with the business. As Landtran Systems Inc. continues to gain momentum in the industry, the website can accommodate that extra mileage with ease.
SUPERCHARGED USER EXPERIENCE FOR THE LONG HAUL
When it comes to web design, it's not just about what's under the hood; it's also about the driving experience. The new design of Landtran's website is clean, agile, and turbocharged for maximum efficiency – allowing users to navigate with ease and rev up their understanding of Landtran's robust service suite.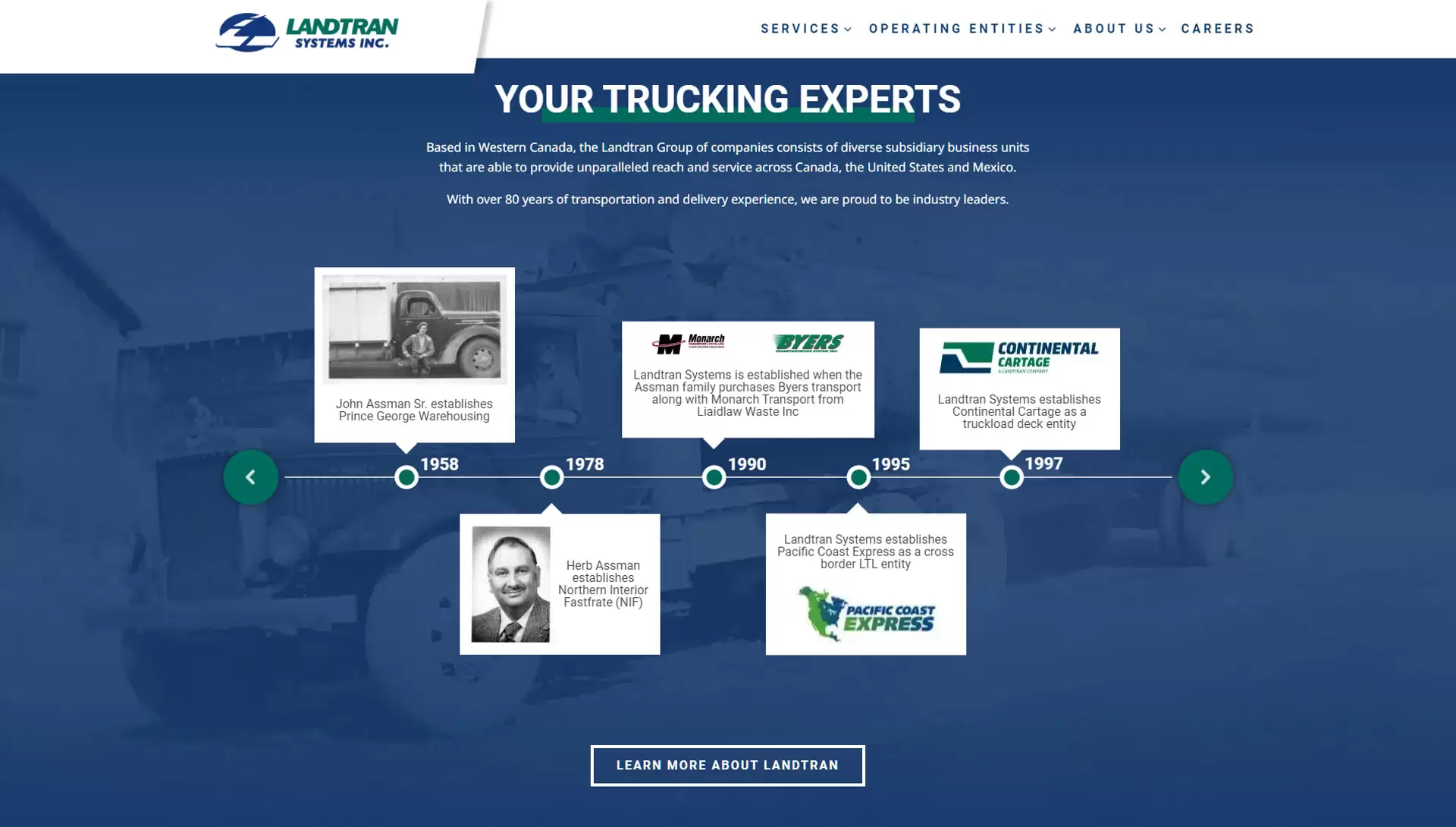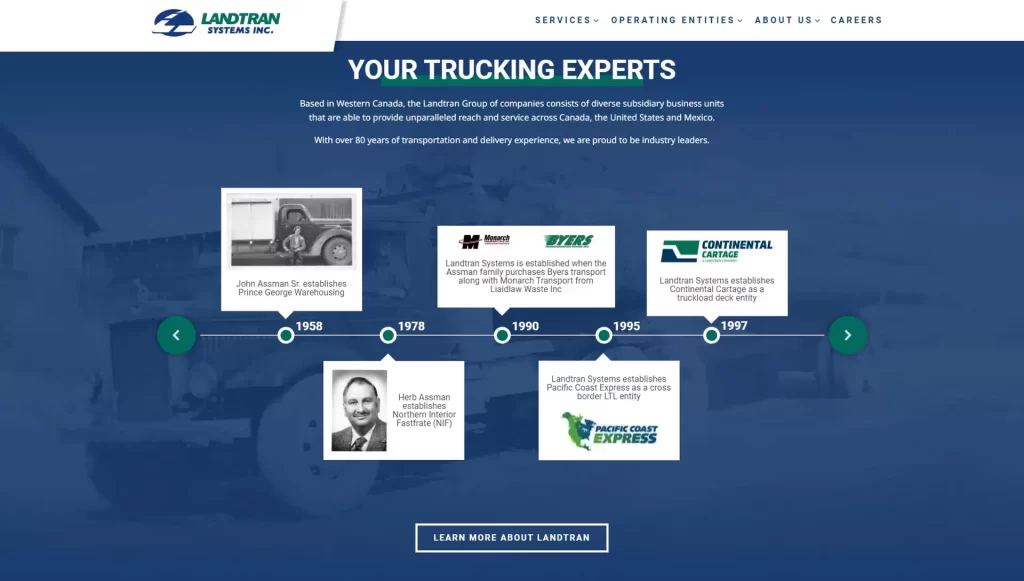 A CUSTOMIZED ROUTE THROUGH LANDTRAN'S JOURNEY
The Landtran story unfolds with a custom interactive location map and a comprehensive timeline. Like the lights of an approaching semi on a dark highway, these unique features illuminate Landtran's rich history with custom graphics and historical photos.
FULL-THROTTLE SEO OPTIMIZATION AND CYBERSECURITY
While the visual design captures the eye, the powertrain of the Landtran website is its robust SEO Optimization, thanks to WEB ROI. Expertly crafted meta titles, descriptions, and professional content will ensure Landtran doesn't just keep pace in the digital race but leads the pack. And, just like a reliable rig, the website is built to withstand the long haul with the latest CMS and security components – a clear sign of top-notch web development.
REFLECTING THE LANDTRAN PROMISE: RELIABLE SERVICE, WITH EVERY MILE
Landtran Systems Inc. is renowned for its customer service, reliability, and flexibility, now reflected in its mobile-first website. These attributes are the fuel that drives Landtran's success, and now, their digital platform shares the same power source. So, buckle up and prepare for an unforgettable digital journey.
WHY IS A NEW WEBSITE IMPORTANT FOR BUSINESS?
Technology moves fast, and an outdated website is like riding a horse and buggy on the highway. Chances are, you're going to get left in the dust. Re-doing an antiquated website ensures your business is using the latest tools and features to get in front of your target audience. And if your website is the vehicle of your business, consider SEO the fuel to drive your online visibility. A new website gives you the chance to optimize it for search engines, making it easier for potential customers to find you. A new website isn't just a pretty face; it's also a powerful lead-generation machine. With captivating content, intuitive navigation, and enticing calls to action, you'll be attracting customers and taking your sales funnel from 0 to 60 in no time.
ABOUT BLUE OCEAN INTERACTIVE MARKETING AND WEB ROI
With Blue Ocean Interactive Marketing and WEB ROI at the wheel, the Landtran Systems Inc. website is set to cover more ground than ever. This isn't just a website – it's a high-octane digital highway where Landtran's journey continues.
Are you looking to drive more leads for your B2B business? Get a free quote today!