A CUT ABOVE THE REST IN THE WORLD OF E-COMMERCE
CALGARY, Alberta - "Getting to the root of your synthetic grass needs!" No, that's not a new gardening reality TV show on HGTV; it's the mission statement of Synthetic Grass Maintenance Equipment Ltd., now turbocharged by their new e-commerce website https://www.sgme.ca, lovingly crafted by the digital maestros of Blue Ocean Interactive Marketing and WEB ROI.
DIGGING DEEP WITH WORDPRESS AND WOOCOMMERCE
In the virtual toolbox of the website development wizards at Blue Ocean Interactive Marketing, WordPress, and WooCommerce are the trusty trowels. They've dug deep and crafted an e-commerce platform as polished as a well-manicured synthetic lawn.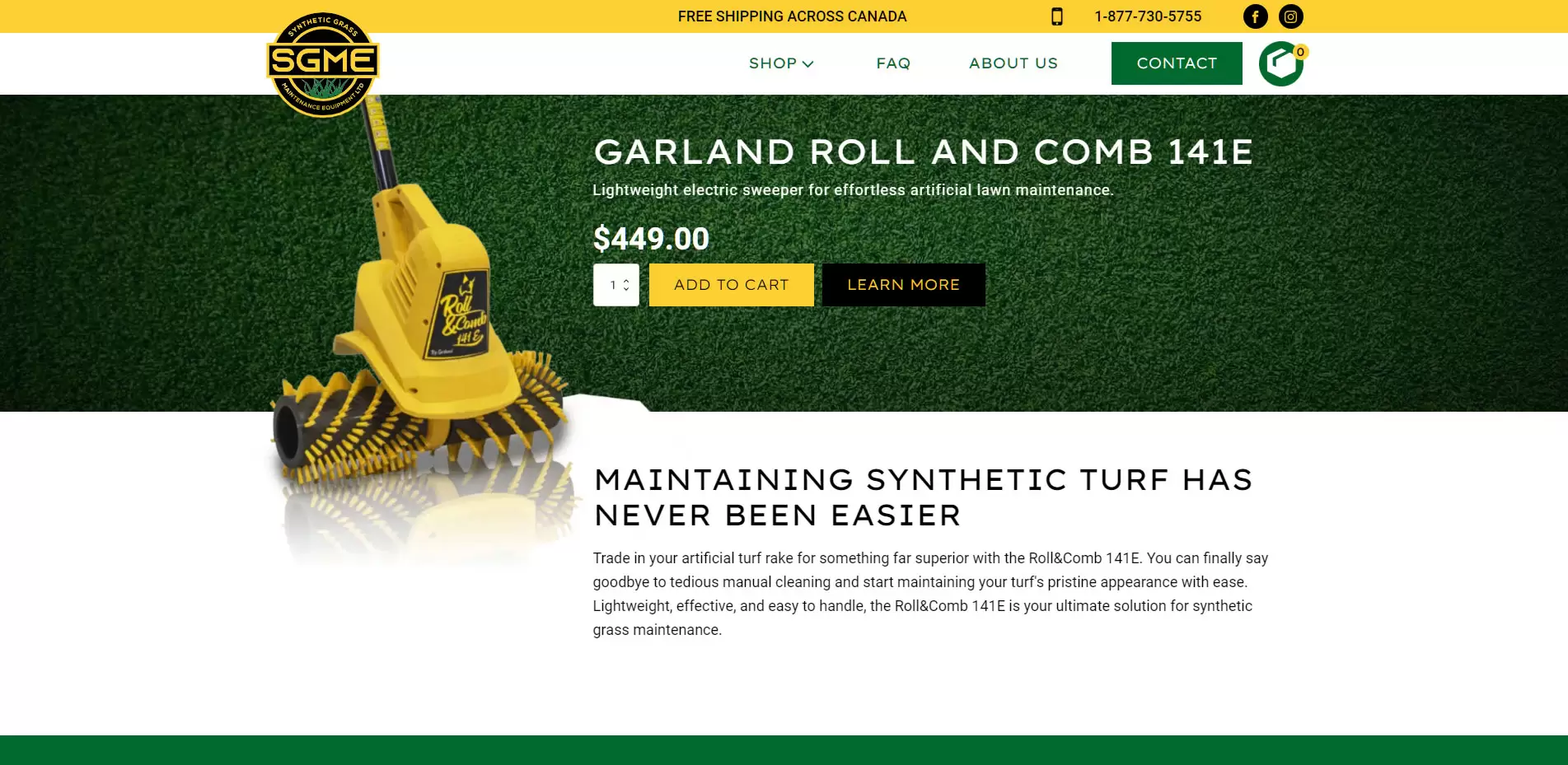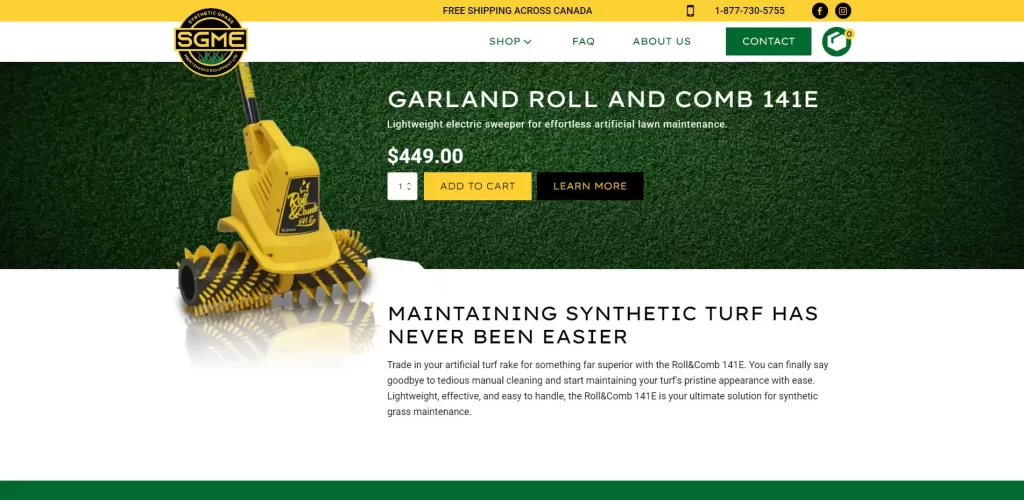 LATEST CMS AND SECURITY: NO MORE WRESTLING WITH WEEDS
The new website has the latest CMS components for smooth-sailing content management. Plus, with top-of-the-line website security solutions, say goodbye to the pesky weeds of cyber threats. "Online safety? We've got it in spades!" quipped Gervais. Powered by WooCommerce, it has been optimized to support secure transactions and a streamlined checkout process to keep customers happy.
A BLOOMING PARTNERSHIP: COMPREHENSIVE DIGITAL MARKETING SUPPORT FOR ONGOING GROWTH
In the digital world, it's not enough just to plant the seed and walk away. You've got to water it, tend to it, and maybe even talk to it a little (hey if it works for plants, why not websites?). Blue Ocean Interactive Marketing and WEB ROI gets this, so they've committed to providing Synthetic Grass Maintenance Equipment Ltd. with a powerhouse of ongoing digital marketing support.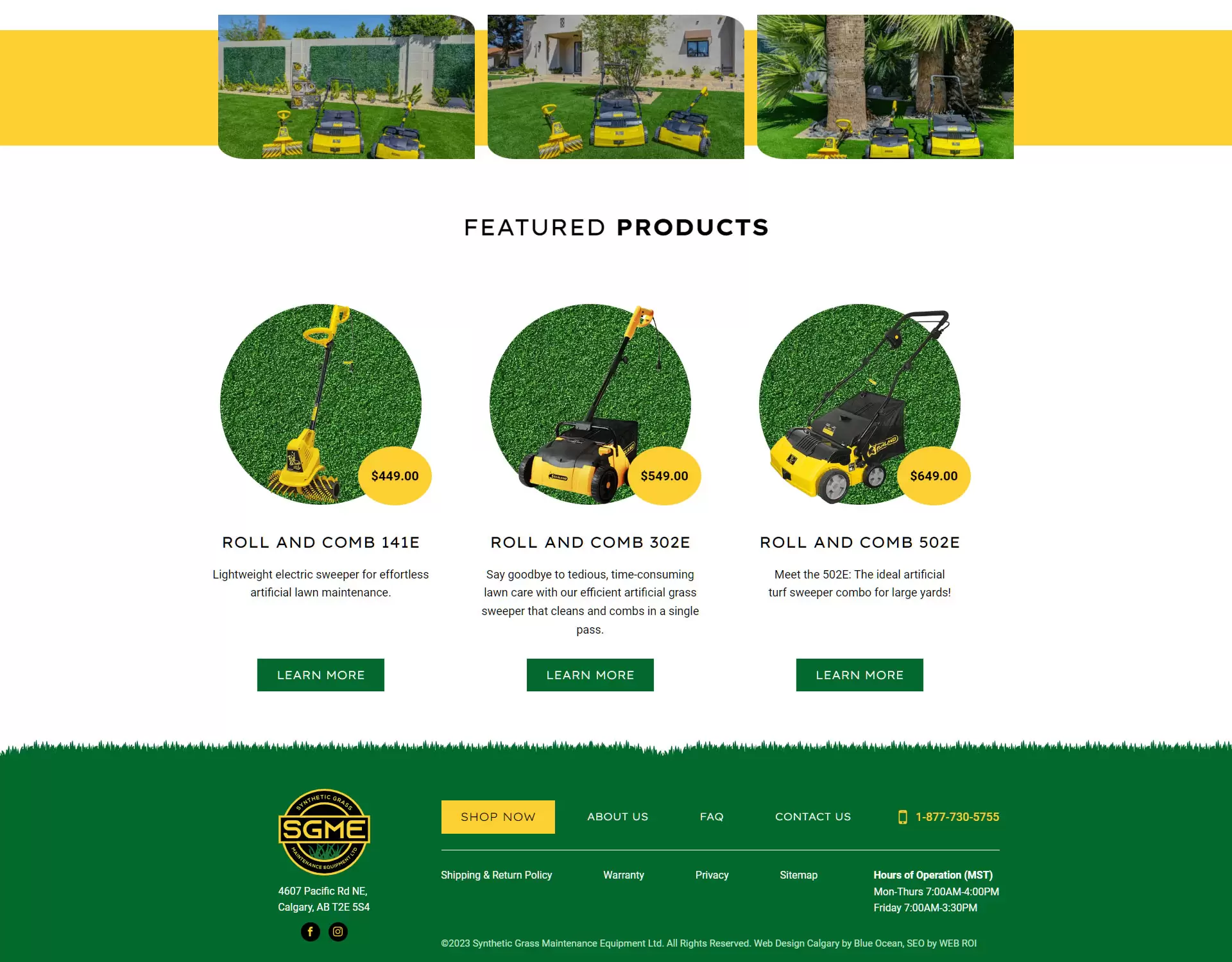 But what does this green-thumb approach to digital marketing entail? Well, from website design to SEO strategy, the team at Blue Ocean and WEB ROI have thrown all their digital eggs into one big, flourishing basket. "We're all in," announced Denise Bowen, Managing Director, while watering her cherished bonsai tree. "This isn't a one-and-done project for us. We're here for the long haul."
Part of that commitment includes an ongoing PPC management strategy to ensure SGME isn't just throwing money into the wind. And, to make things even more interesting, they've also rolled out a customized digital marketing partner program.
SUPERCHARGE YOUR BUSINESS SUCCESS WITH BLUE OCEAN INTERACTIVE AND WEB ROI TODAY
This customized program brings advanced features like A/B testing to continually fine-tune the user experience and heat mapping to understand user behaviour on the website better. Along with ongoing SEO to keep SGME's website at the top of search rankings, these initiatives (and more!) will drive user engagement and improve overall website performance. Like a gardener crossbreeding plants to create the most beautiful bloom, Blue Ocean Interactive Marketing and WEB ROI are constantly testing, tweaking, and optimizing to deliver a website that looks great and performs outstandingly. After all, what's a garden without a little TLC? (Usually dead, but that's another story for another time).
Is your business looking to grow online? Find your green thumb groove, and get in touch with us today!